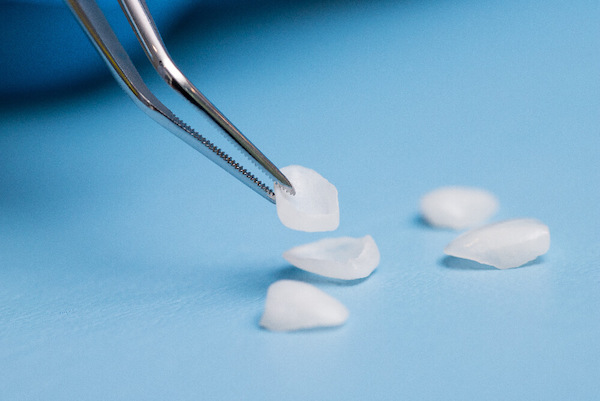 What Are Dental Veneers? 
Veneers are porcelain shells that are bonded to the front of a patient's teeth to hide cosmetic imperfections in their smile. Veneers are durable, last for up to 15 years, and look extremely natural because they're very thin. They can be used to cover up a variety of issues including minor damage and misaligned teeth. Contact us at SOLA Dental to schedule a consultation in Lafayette.
Did You Know…
Porcelain veneers are more affordable than porcelain crowns.
Ready to book a consultation?
The Veneer Placement Process
Consultation
Dr. Deniakos will talk to you about your aesthetic goals and examine your teeth to determine if veneers are right for you.
Enameloplasty
After administering local anesthesia to numb your mouth, a dental drill will be used to remove .5 mm (the thickness of the veneer) from your enamel.
Shade Guide & Fabrication
Using a shade guide, we'll match the shade of your natural teeth to the porcelain that your veneers will be made of. This information along with your impressions will be sent to a dental lab that fabricates your veneers.
Temporary Veneers
While you wait for your veneers to be fabricated, you will need to cover your filed-down enamel with temporary veneers. These will be removed when your official veneers are ready.
Bonding
After about 3 weeks, your veneers will be ready to be bonded to your teeth.
Benefits Of Veneers
Fix Chips & Cracks
If you have tooth damage, large fillings, eroded enamel, or chips in your teeth, these can cause insecurity in the harmony of your smile. Veneers not only cover up these problems but they also provide extra strength and durability to protect your teeth from further damage.
Cover Discoloration
We all want a bright white smile, but it's difficult to maintain when so many of the things we eat and drink cause discoloration. Regular cleanings and teeth whitening can help give us a whitening boost but only temporarily. Veneers provide you with long-term white teeth that last for 15 years and are stain-resistant.
Close Gaps & Misaligned Teeth
If you have gapped front teeth or slightly crooked teeth, these can detract from the aesthetics of your smile, but orthodontic treatment can be very expensive and time-consuming. When orthodontic issues are minor enough, veneers can simply cover them up to give you straight, perfectly spaced teeth.
Change Tooth Size & Shape
Maybe you don't have damage, discoloration, or orthodontic problems but you're unhappy with the shape or size of your teeth. Veneers give you the ability to control how big, square, long, and even your teeth are. 
Did You Know…
Veneers are usually only placed in the front teeth.
Interested in veneers in Lafayette?
Call (337) 993-3223 to book an appointment
Have Questions About Veneers? Find Answers Here.
Am I A Good Candidate For Veneers?
If you have any of the above-mentioned cosmetic issues but are in good oral health and don't have severe damage to your teeth or severe orthodontic problems then veneers are a great option for you. The best way to find out if you're a good candidate is to book a consultation with Dr. Deniakos.
Are Veneers Permanent?
The simple answer is yes in some ways and no in others. The longer answer is that veneers need to be continually replaced every 10 to 15 years so they do not last forever. However, to prepare your teeth for veneer placement, we must remove a small amount of enamel to create enough space for the veneers. By removing this enamel, these teeth are permanently altered and will always need to be covered with veneers.
Did You Know…
Veneers are longer lasting than teeth whitening and dental bonding.
Ready for a new smile?