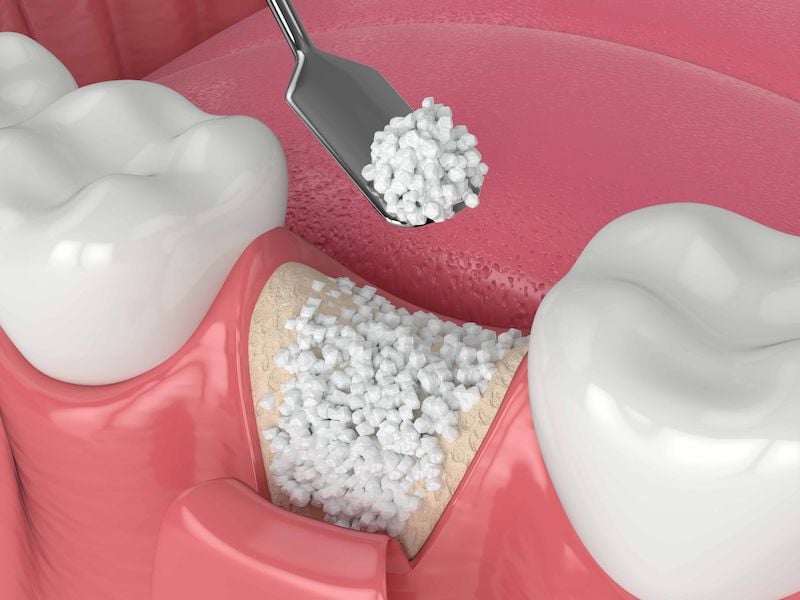 What Is A Bone Graft?
A dental bone graft is a surgical procedure performed to add volume to your jaw in parts where bone loss has occurred. This treatment is usually done before dental implant placement or when bone loss significantly affects the surrounding teeth.

If you've suffered bone loss and need to grow new bone to secure your natural teeth or support the placement of a dental implant, you may want to consider bone graft surgery.

At SOLA Dental, we provide reliable bone grafting services to patients in Lafayette, LA. Schedule a consultation with Dr. Jacob Deniakos to find out how we can help put an end to your bone loss.

Did you know that keeping sufficient bone tissue in your jaw and teeth is a vital part of maintaining good oral health?
The Bone Grafting Process
The Initial Consultation
Visit our dental office at Lafayette to meet with our dentists for a confidential consultation. The doctor will perform a thorough oral examination to assess the health of your teeth and jaw bone density to see if you're a good candidate for a bone graft surgery. After dental x-rays and scans, the dentist will discuss the findings with you before developing a personalized treatment plan to meet your unique dental health needs.
The Bone Graft Surgery
After the initial consultation, you will schedule a bone graft surgery appointment, and your dentist will provide you with a comprehensive treatment plan. Initially, your dentist will numb the affected area with a local anesthetic before creating a tiny incision in your gums. Then the dentist will clean and disinfect the site and add bone grafting material to restore your bone.
Healing Process
After a bone graft, you may experience pain, bruising, and swelling. These symptoms should disappear in a few days. Over-the-counter pain relievers can be used to manage after-surgery symptoms. Your dentist may also prescribe medication that should be taken according to the prescription.
What To Expect
Following a bone graft, you can expect a little discomfort and pain. However, most patients say that these symptoms are manageable. Just remember to take your medications as prescribed. You can also expect temporary dietary changes, changes in sleeping position, and reduced physical activity.
When Are Bone Grafts Necessary?
Bone grafts are necessary for patients with missing bone in their upper jaw. It can help stimulate the bone growth required to restructure the jaw or prepare it for restorative dentistry, such as dental implants often used to replace missing teeth.
Am I a Good Candidate for a Bone Graft?
Your dentist may recommend a dental bone graft if you have the following:
Bone loss
Tooth loss or gum disease
Need implants for missing teeth
Did you know that the bone graft grows and turns into your own bone within three to six months? Consider scheduling an implant consultation with Dr. Deniakos once your graft has healed.